Heart of Hammersmith
Our Local Area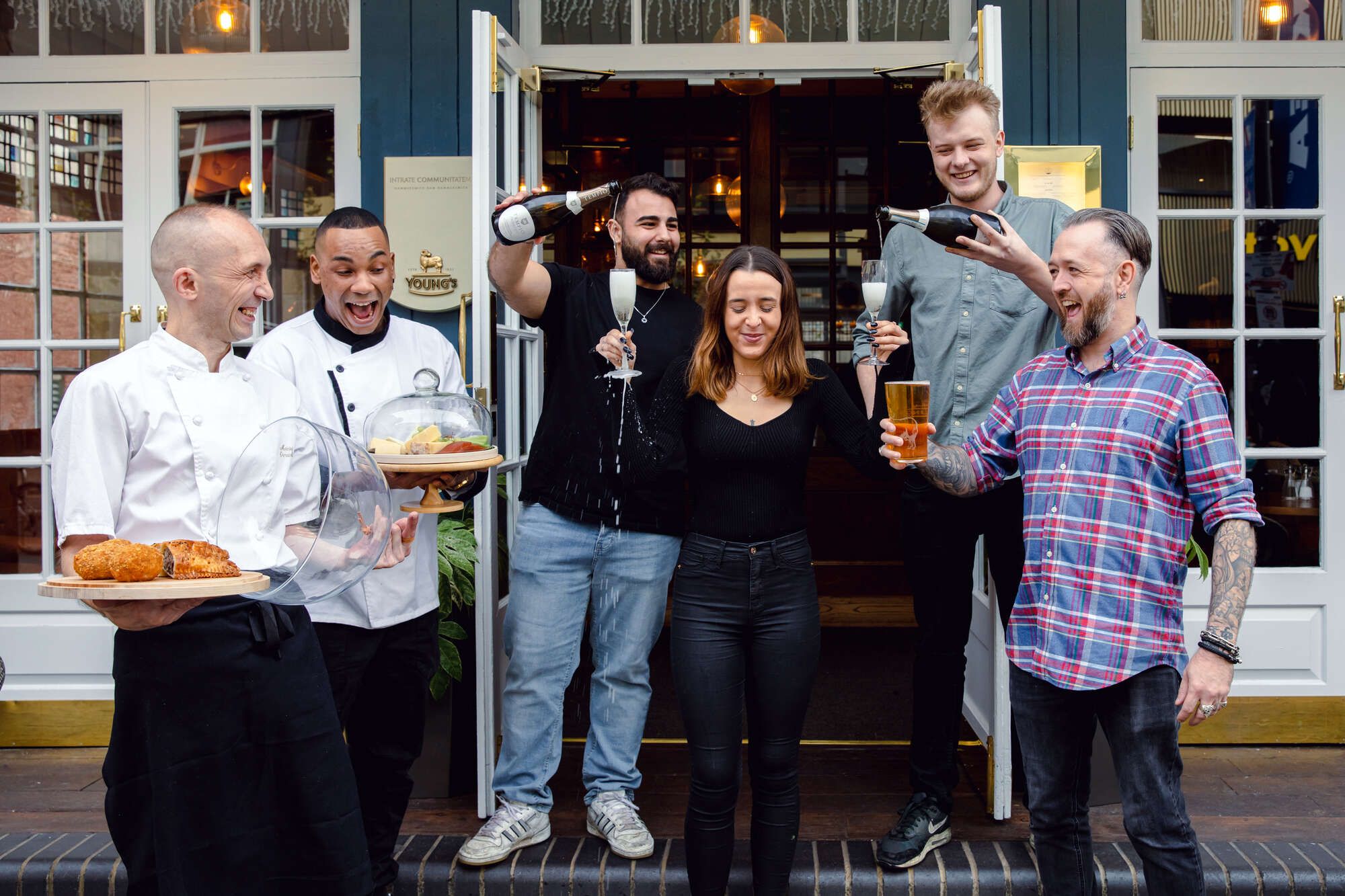 Explore Hammersmith
With its vibrant foodie scene, bustling High Street, love of the arts and idyllic location next to the River Thames, Hammersmith has long been a hot destination in West London. Hammersmith Bridge is also the halfway point of the annual Boat Race between long standing rivals Oxford and Cambridge University.
If entertainment is what you are after, Hammersmith is home to Lyric theatre and for live music, we are on the doorstep of the Eventim Apollo. If you are passionate about the Arts and Craft Movement, Hammersmith is home to the house museum of William Morris and his friend Emery Walker.
Meet the Landlord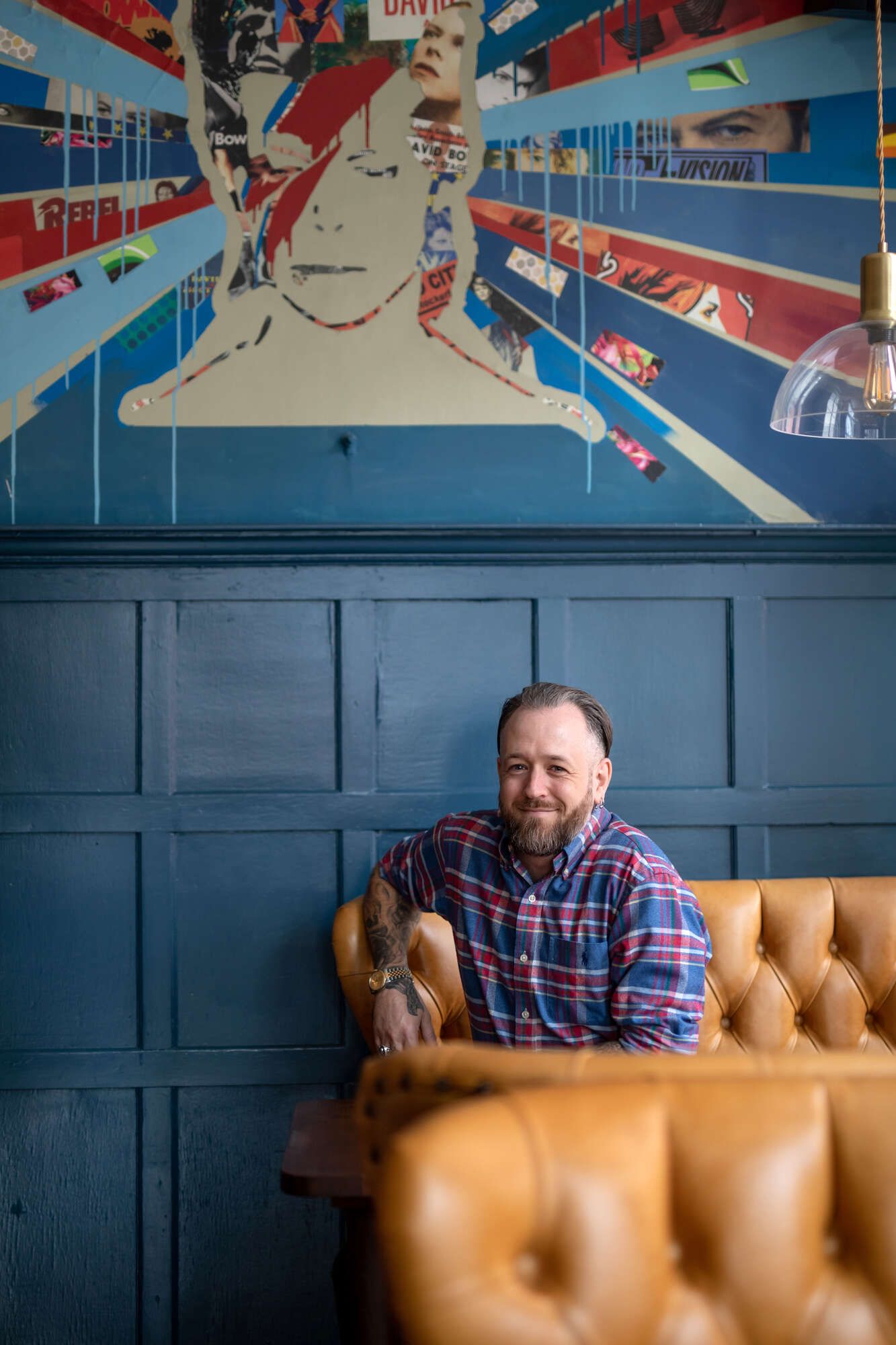 When you step into the Ham Ram, prepare to meet Mark, the legendary landlord, and his charming sidekick, Florence (more on Florence later). Mark's enthusiasm for live music is practically boundless, and his dedication to curating the best pre and post event atmosphere to the Apollo is second to none. Seriously, this man can spot a hidden talent from miles away, and his passion for bringing the community together through music is downright infectious.
Mark's magnetic personality is like a beacon for the community. Folks can't help but pop in just to see if he's behind the bar, ready to share a friendly chat and pour a pint with a warm smile. It's like a little slice of Cheers right here in Hammersmith.
Pub Dog Florence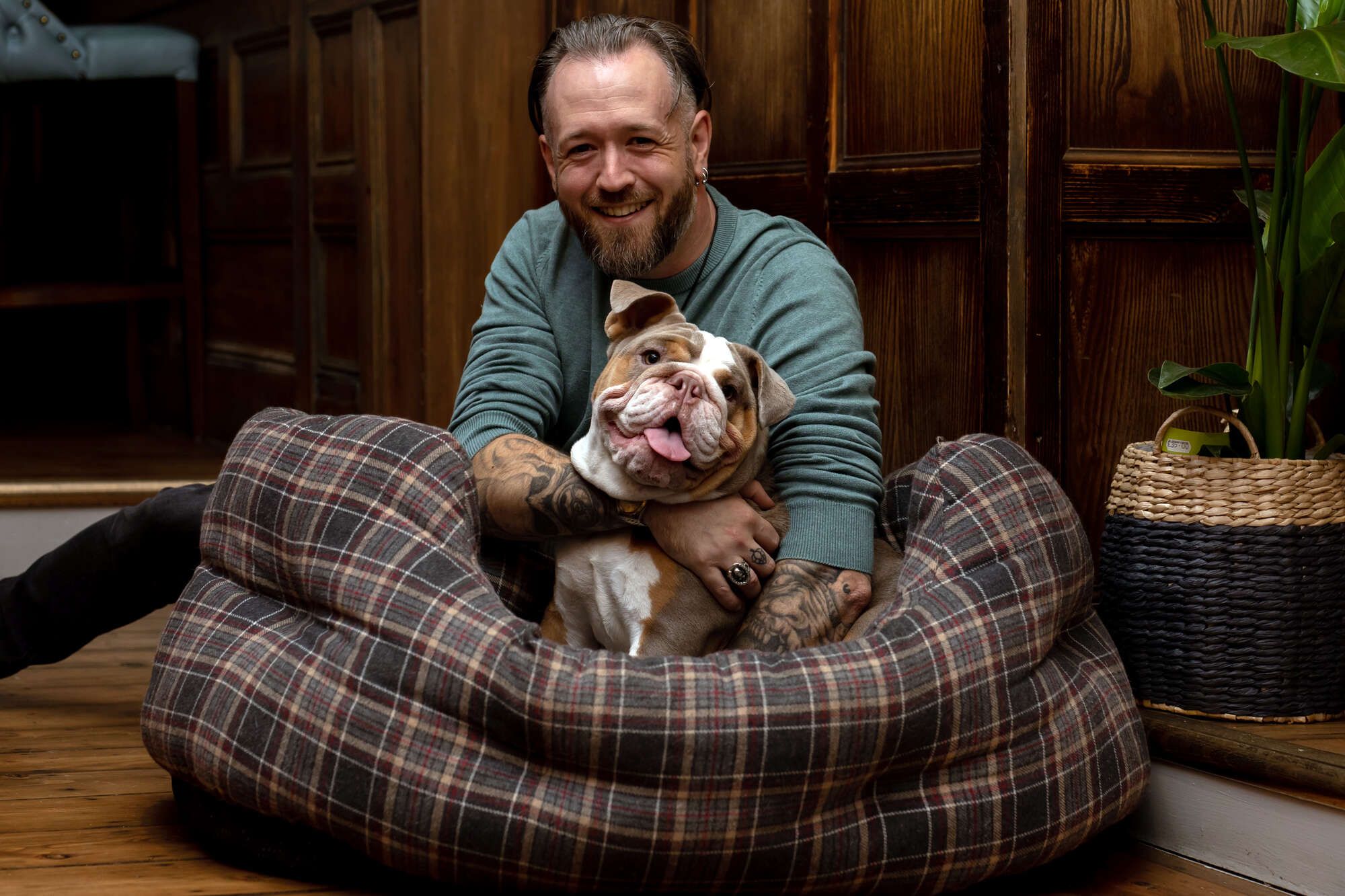 This four-legged furball is not just your ordinary pub dog; she's a fluffy, cuddle-hungry sensation. She's got a knack for finding the cosiest spot in the pub, and her love for tickles and cuddles knows no bounds. Trust us, one belly rub from Florence, and you'll be convinced that her mission in life is to spread pure canine joy to everyone who walks through the Ham Ram's door.
So, if you're up for some doggy delightful companionship, and the chance to share a laugh with Mark, make your way to the Ham Ram. You'll quickly discover that Mark and Florence are the dynamic duo you never knew you needed in your life, and the community loves them for it!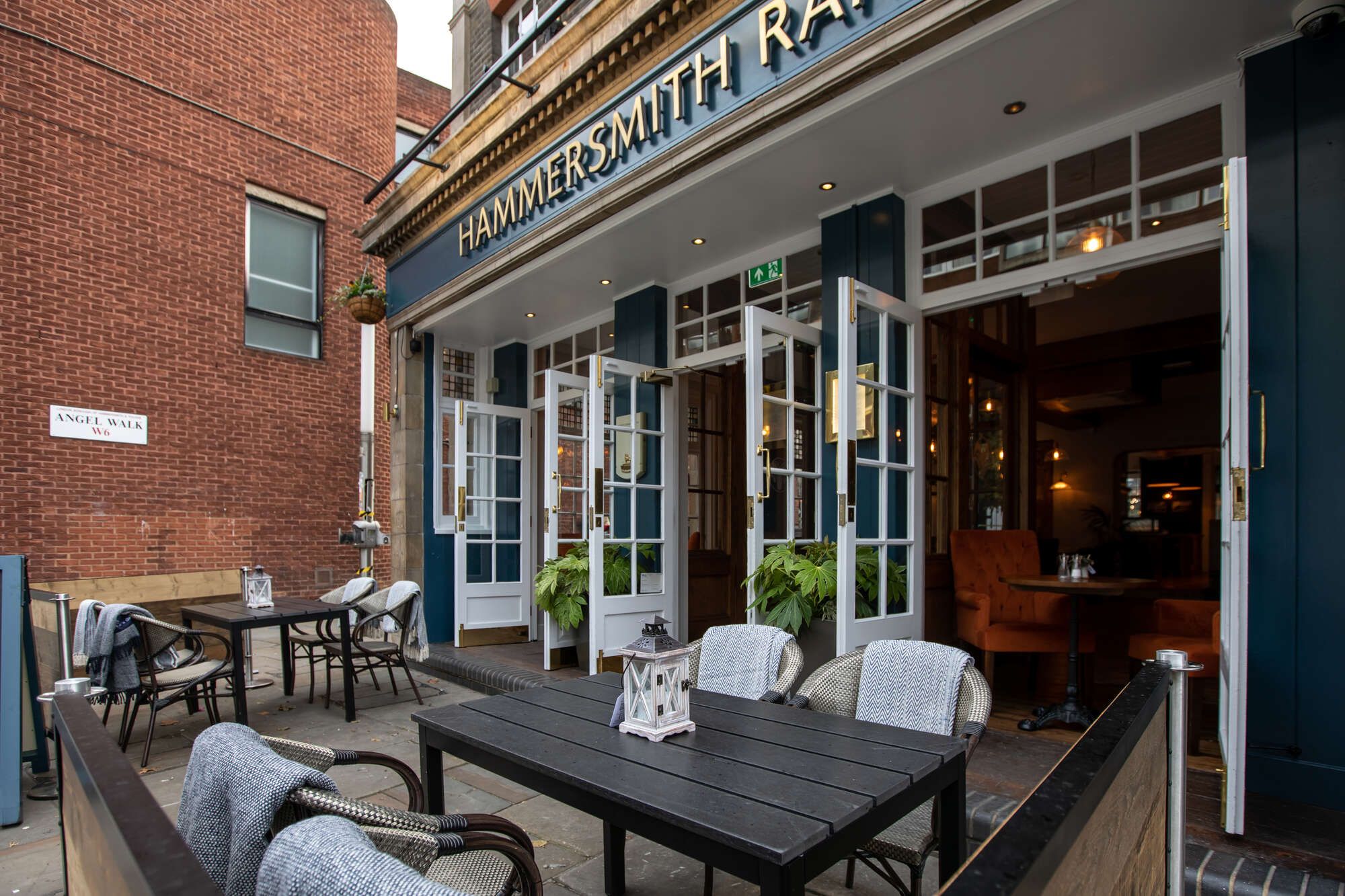 King Street
Looking to spend an afternoon shopping before heading to us for a well deserved rest bite? King Street is home to a wide array of shops from homeware, clothing and more.
King Street used to be the main road to Windsor Castle for hundreds of years and as such, many of the pubs you see on King Street today used to be old posting houses.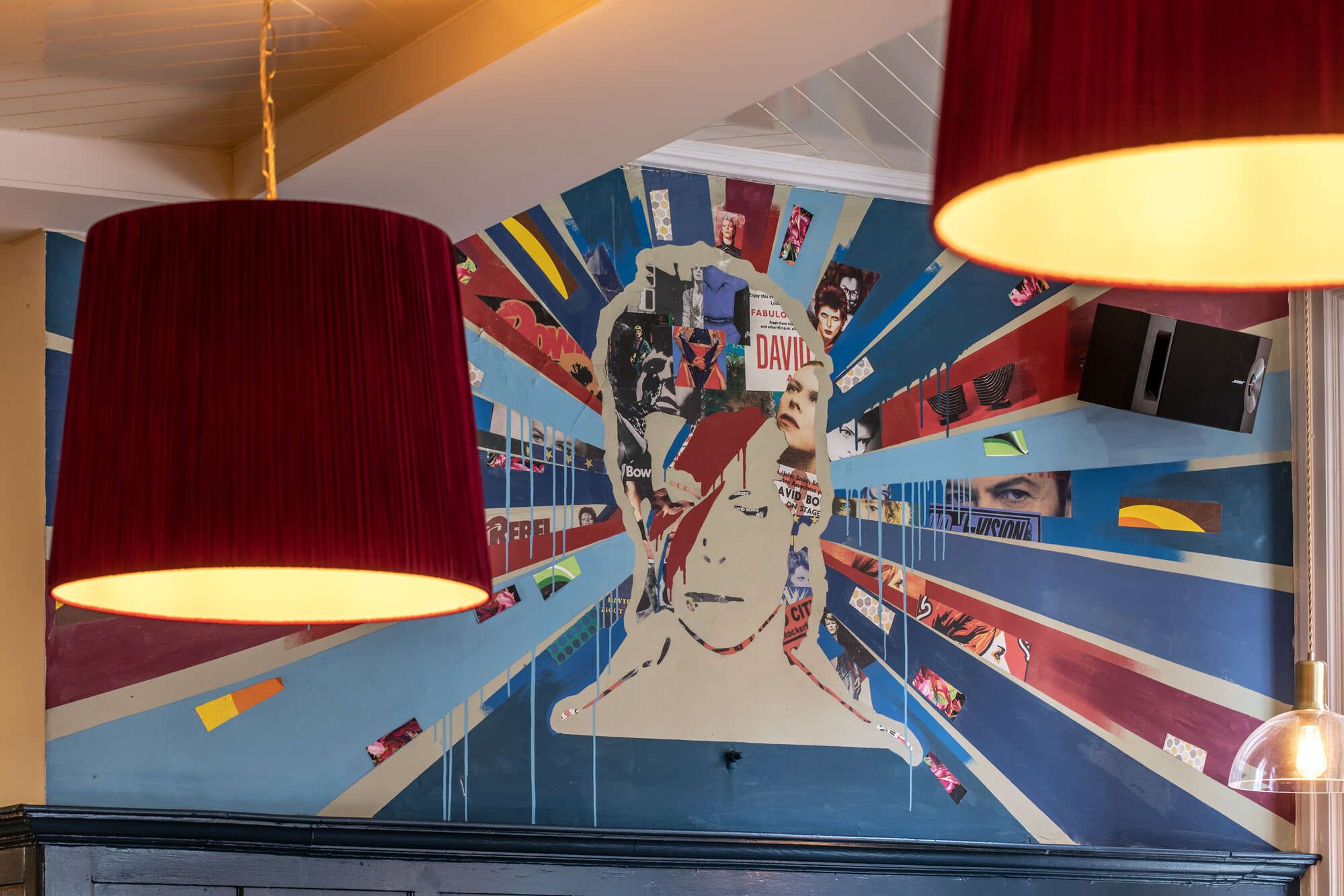 Eventim Apollo
The Apollo is steeped in a rich history unmatched by many other live music venues in all of London. The Apollo's doors have been open for over 90 years and have seen many historic figures grace its iconic stage.
Most notably of all was David Bowie who in July 1973, announced he was killing off Ziggy Stardust. We pay homage to David Bowie in our bar with our Bowie inspired mural.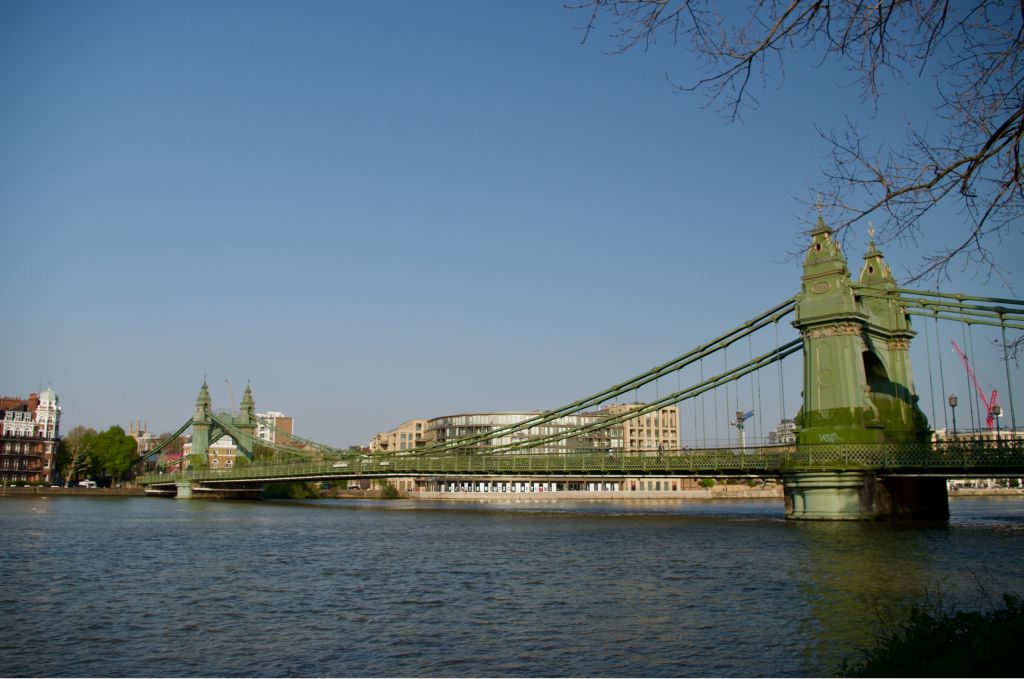 Hammersmith Bridge
Hammersmith Bridge is the one of the world's oldest suspension bridges and is listed as a grade II monument and considered a British engineering feat and national landmark. With sweeping views of the Thames and beyond, it has retained its popularity since it first opened in 1887. We are a short five minute walk from Hammersmith Bridge, making us the ideal pitstop.
Keep In Touch
KEEP UP TO DATE WITH OUR LATEST NEWS, TREATS AND THE COOLEST EVENTS IN HAMMERSMITH
In future we may tailor emails and online advertising based on your location and what you've shown an interest in. By clicking on 'Yes Please' on the above, you're accepting our Privacy & Cookie Policy. Young & Co.'s Brewery, P.L.C and its group of companies are committed to protecting your data and it will be processed in accordance with our Privacy & Cookie Policy which can be found at www.youngs.co.uk/privacy-policy. Please read this before clicking 'Yes Please'. Promoter: Young & Co.'s Brewery P.L.C, Copper House, 5 Garratt Lane, Wandsworth, London, SW18 4AQ. Registered in England & Wales Company No. 32762
This site is protected by reCAPTCHA and the Google Privacy Policy and Terms of Service apply.